AFTER PRIDE Megaparty
Long Back um
20:00 Uhr
GAY WONDERLAND right after the parade
AFTER PRIDE MEGAPARTY
Making Vienna the Gay Capital of Europe

PRESENTED BY:
HEAVEN Vienna | Männer im Garten | OMG Society

LOCATION:
VOLKSGARTEN SÄULENHALLE, Burgring 1, 1010 Vienna
- Right in the center of the city
- Doors open at 8:00pm
- Five minutes from parade ending
- Look out for our trucks & win VIP-Tickets

TICKETS:
Door price: EUR 16
Pre-sale: EUR 14

HARDFACTS:
- RIGHT AFTER EUROPRIDE (8PM)
- 5 MINUTES FROM PARADE ENDING
- 1 MINDBLOWING MEGAPARTY
- 2 DANCEFLOORS
- HUGE OUTDOOR AREA
- FOAMPARTY SURPRISE
- 3 HOT PARTY BRANDS
- WORLD CLASS DJs
- MANY HOT ACTS
- 1000+ sexy people from all over the world

Come to the WILDEST INDOOR OUTDOOR PARTY after Europride right in the center of Vienna, where all the hot action takes place!

Join three of the hottest party brands for a GAY CIRCUIT WONDERLAND right after the parade. On June 15 we will turn the legendary party venue VOLKSGARTEN SÄULENHALLE into the Gay Capital of Europe.

This is the only location in Vienna featuring 2 DANCEFLOORS for House and Pop, HUGE OUTDOOR AREA with a SEXY FOAMPARTY SURPRISE in ONE location! We also bring you WORLD CLASS DJs which guarantees circuit house music at its best (stay tuned for more info). Plus get ready for HOT ACTS, WELCOME SHOTS, SPECIAL DECO and 1000+ HOT LOOKING PEOPLE from all over the world. If you want to win VIP-tickets look out for our hot party trucks at the parade.

Get ready for true international circuit extravaganza. We only have one aim: to make this party the BEST ONE OF THE SUMMER ... Do you want to join us? Then save the date.

Contact:
Check us out on social media!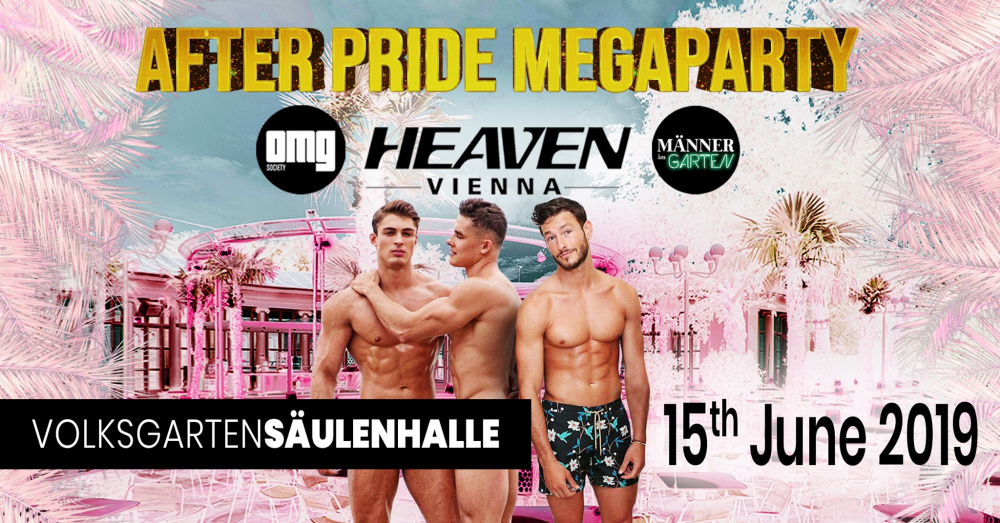 Säulenhalle
Burgring 1, 1010 Wien
Von Donnerstag bis Samstag ist die SÄULENHALLE das Zuhause von zahlreichen Veranstaltungen wie der berühmten Veranstaltungsreihe NYC, Schabernacht und zahlreichen anderen Events.
Unter der Woche ist die SÄULENHALLE mit ihrem einzigartigen Garten und ihrer prominenten Lage die perfekte Location für geschlossene Gesellschaften aller Art. Bei der Planung wurde daher architektonisch auf die Bedürfnisse exklusiver Business – u. Privatveranstaltungen eingegangen.
Webseite
E-Mail
+43 1 5324241