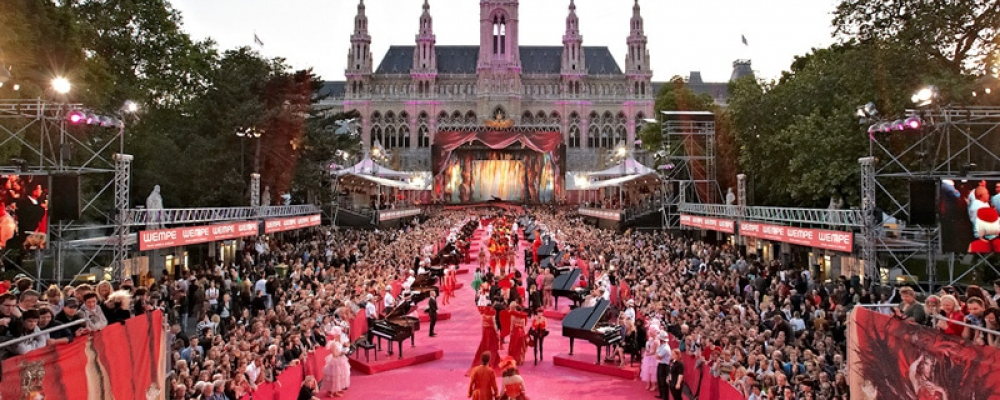 Life Ball 2019
Der 26. Life Ball findet am Samstag, dem 8. Juni 2019 statt und steht unter dem Motto: "United in Diversity. Walking on the yellow brick road towards an end to AIDS."
Der diesjährige Life Ball begibt sich auf eine Reise über den Regenbogen und landet mit einer umherziehenden Zirkustruppe in einer fantastischen Welt der Farben. Auf dem Weg finden sich mehr und mehr skurrile Figuren zusammen, alle auf ihre Art "Freaks", jeweils auf der Suche nach einem Zuhause, nach Herz, Verstand und Mut. Der gemeinsame Weg zeigt sich dabei als das Ziel und in Wahrheit als nie endend, denn die Eigenschaften findet jeder in sich selbst und können nur gemeinsam zur Entfaltung gelangen.

Anlässlich 50 Jahre Stonewall findet der Life Ball 2019 zur Halbzeit der EuroPride statt.
We have come a long way, but there is still a way to go
Außenseiter bleiben nur so lange "Freaks" und in einer Gesellschaft heimatlos, wie sie sich in ihren Nischen verstecken. Daher begibt sich der 26. Life Ball am 08. Juni 2019 auf eine Reise über den Regenbogen. Als vor 50 Jahren im Stonewall Inn erstmals homosexuelle Menschen vehement gegen die Schikanen der Polizei rebellierten, war der Weg in die Sichtbarkeit gewählt, die Regenbogenflagge ihr augenfälliges Symbol. Ein Regenbogen zeigt nicht nur Schönheit, die aus dem Zusammenwirken von Vielfalt entsteht, er ist auch ein hauchzartes Gebilde, eine Brücke zwischen Himmel und Erde, ein Tor zu einer Traum- und Vorstellungswelt, so wie in dem von Judy Garland interpretierten Song "Over the Rainbow", der stets ein Topos der schwulen Subkultur war.
Together we are a rainbow
So baut der diesjährige Life Ball thematisch eine Brücke zur anschließenden EuroPride und reflektiert das Andersartige im Spiegel des Gewöhnlichen. So wie ein Regenbogen stets das Sonnenlicht ist, das sich im Regen spiegelt, so braucht auch eine Gesellschaft immer beide Seiten. Nur wer bestimmt, was ein "Freak" ist? Und wer kann diese Kategorien ändern? Ist nicht derjenige ein Freak, der Gewalt verherrlicht? Oder bloß derjenige, der ungewöhnlich aussieht?
Ausgangspunkt unserer Reise ist eine umherziehende Zirkustruppe, die ihr Zelt vor dem Rathaus aufschlägt. Eine bunte Familie, Grenzgänger am Rande der Gesellschaft, dem Gebot des Andersartigen, des Magischen und des Riskanten gehorchend. Ein Wirbelsturm zieht auf und die Zirkusvorstellung nimmt einen ungewöhnlichen Verlauf. Als schließlich eine gute Fee erscheint und den Weg über eine gelbe Straße weist, beginnt eine Reise durch die Welt der Farben. Von Station zu Station schließen sich mehr und mehr Menschen an, doch das smaragdgrüne Rathaus ist nicht der Endpunkt, der Weg, die gelbe Straße, führt weit hinaus um die ganze Welt.
LIFE BALL PARTY IM VOLKSGARTEN
Party:
Nach der Eröffnung am Wiener Rathausplatz erwartete all jene, die keine Life Ball Karten besitzen, die Möglichkeit, die Life Ball Nacht ausgiebig im Volksgarten zu feiern.
After Hour:
Für alle Nachtschwärmer, die auch nach Sonnenaufgang noch genug Energie zum Feiern übrighatten, bot die Life Ball After Hour im Volksgarten das ideale Party-Programm.
Breakfast Club:
Auch um 9:00 Uhr war die Life Ball Party noch lange nicht vorbei. Ab diesem Zeitpunkt kümmerten sich Food-Trucks um das leibliche Wohl der Gäste.
Längst fixer Bestandteil einer ausgelassenen Life Ball-Nacht ist die Life Ball Party im Volksgarten, die auch heuer wieder musikbegeisterte Gäste mit einem DJ-Line-Up der Extraklasse verwöhnte.